Performance, Dance, Theater
,
Performance
Asher O'Gorman, Daniel Lercher, Tara Silverthorn: if a bee falls in(to) a box
conjuring phenomena at home
if a bee falls in(to) a box is a home performance package inspired by naturally occurring optical and audible phenomena.
The artists have come together remotely from their respective cities (Vienna and Bristol) to work within one another's fields - choreography, visual arts and sound. They have crafted and curated packages for two people to use at home after sundown. Inside the packages lie a collection of materials and the guidance to enter a sensuous home performance and conjure visions; at once scientific and magical, ancient and futuristic.
if a bee falls in(to) a box is the first of two parts. The second part of the work, if a bee falls in a forest, is a live, immersive performance installation, which will premiere at WUK performing arts in 2022.
Suitable for adults and age 12+
The package contains written guidance in both German and English, so reading skills are essential.
#iheardthebeefall
We share here the impressions of our audience.
---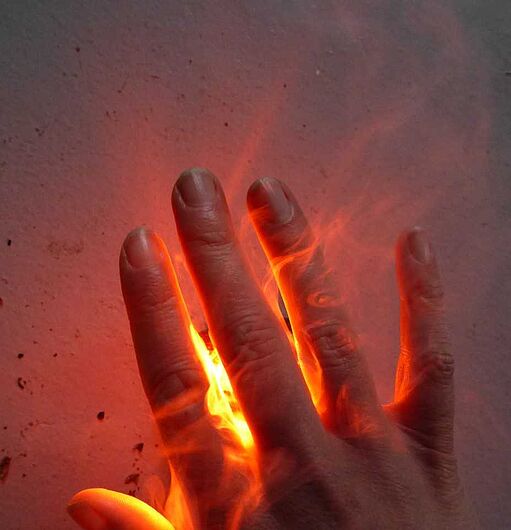 The project is a close collaboration between Asher O'Gorman, Daniel Lercher and Tara Silverthorn.
More
Asher O'Gorman (IE/UK) resides in Vienna and works both as a dancer & maker in various collaborative settings. Her work is a meeting of choreographic and visual art practices. She creates performances that capture the physical interchange between human bodies and material entities and invite the audience to view the cosmos differently. She premiered her solo the way of ink ••º• at imagetanz festival 2020 brut Vienna and a little rise as you stand softly (short film) was a part of New Art on…line, brut. Recently she collaberated as a performer in BOUNCE by Costas Kekis, brut. Ashers works have been presented at venues such as Kunstraum Lakeside Klangenfurt, Greenwich Dance London, Pelzverkehr performance & dance festival Klagenfurt. Asher holds a B.A.(Honours) in choreography at Dartington College of Arts (UK), and completed her dance and choreographic training in (SEAD) Salzburg in 2008. Currently she is completing her MA at the TransArts Department, University of Applied Arts, Vienna. asherogorman.com
Daniel Lercher (AT) currently lives and works as a musician, composer and soundartist in Vienna. He is a graduate of the course in computermusic and electronic media at the Vienna Institute for composition and electroacoustics. Since 2005 Lercher's work focuses on electroacoustic composition/improvisation, live-electronics, phonography, installations, music for dance & film, etc. His list of activities includes more than 300 concerts, installations and residencies on four continents. Thereby he is collaborating with numerous national and international musicians & artists from various fields. So far his music was published on more than 20 releases of different formats, either as a solo artist or in collaborations. His works have been presented at festivals like ORF-Musikprotokoll (AT), Wien Modern (AT), BCSC (AUS), Signal&Noise (CAN), Neposlušno (SVN), Insomnia (NOR), ICAS (DE), La Petit Mort (CZ), etc. 2009 Lercher received the 'Startstipendium' of the Federal Chancellery of Austria & was nominated for the program 'The New Austrian Sound of Music' in 2014/15. https://lercher.klingt.org
Tara Silverthorn (UK/CH) is an independent artist-practitioner working in the fields of dance, choreography and bodywork. She leads a diverse performance career internationally with artists such as Rosemary Lee (UK), Jana Unmüssig (DE), Vera Tussing (UK/BE), Liam Steel (UK), Mara Vivas (UK/VE), Claudia Bosse/theatercombinat (AT), as well as movement direction for award-winning theatre company, Mechanimal (UK). Collaboration comb with a silent b with Asher O'Gorman received the Jardin d'Europe Wild Card (partnered with Southbank Centre, London) and BKA Startstipendium. Tara is a co-director of Eleven Farrer House, creating works for theatre, film and site-specific, performed at locations such as LABAN Theatre, Siobhan Davies Studios, Happisburgh Lighthouse and Wolstonbury Hill. List of works: circle of perpetual choirs (2018), Portraits from Millfield (2018), Landscape of Giants (2017), Chalk. Body. Barrow. (2017), Species of Spaces (2016) and Disappearance at Sea (2014). Commissions include Hurst Festival, Peterborough Presents and Trinity Laban. Projects are funded by Arts Council England and Creative Scotland. She co-authored a chapter with Dr. Naomi Lefebvre Sell and Lucille Teppa. Moving as a thought process: the practice of choreography and stillness was published in the Routledge Companion to Dance Studies 1st Edition (2019). Their artistic research was presented extensively through workshops and conferences in the UK and Hong Kong. Tara is a Biodynamic Craniosacral Therapist, practicing in Bristol (UK), where she lives.www.tarasilverthorn.com www.elevenfarrerhouse.com
Tickets
There are four collection dates, Fri 4, 11, 18 and 25.6. 20 packages are available per collection date.
Please register by sending an email to performingarts

@

wuk

.

at and let us know on which day you would like to pick up your package.
The pick-up location is the Infobüro at WUK, Währinger Straße 59 1090 Vienna. The Infobüro is open Mon to Fri from 9 am to 8 pm and on weekends and holidays from 3 pm to 8 pm. Please wear an FFP2 mask when collecting your package. You will find disinfectant at the entrance.
In order to pick up your package, we ask you to leave a deposit of € 20 at the Infobüro. After you have returned your package, you will get your money back.
We recommend that two of you look at the contents of the package. You can find out exactly what you can do with the contents in the enclosed booklet.
The package has the dimensions 460 x 290 x 135 mm (LxWxH).
Please return your package on the Monday after you have collected it so that the artists can prepare it for the next round. These are Monday 7, 14, 21 and 28.6.
If you are unable to pick up your package in person due to the current situation, please contact us via email at performingarts

@

wuk

.

at.
Diese Performances könnten dir ebenfalls gefallen: