Performance, Dance, Theater
,
Performance
,
Theater
The work is freely based on the legendary comic book character Phantom, created by American writer, theatre director and producer Lee Falk in the 1930´s. Sabotanic Garden creates its own adaptation of Phantom combining improvised music, physical performance and film material into a mesmerizing endeavour strafing from free jazz to horror, slapstick to occultism and failure to folklore.
FANTOM is a bizarre homage to super heroes. The main character appears and disappears through seemingly disconnected dreamlike episodes. The struggle of orientation, the urge for human attention and the misfits of daily life are not unknown to our hero making his path through time and space and so on and so forth and back again. The public will encounter the evil tent, skiing in the jungle and fights with a female wrestler. No animal will be harmed during the performance.
Additionally an experimental FANTOM film was produced between 2014-17 in collaboration with Czech-Danish film avant-gardist Martin Klapper, which is partly used during the show.
Join our secret society gathering. Shadows of dark depths are awakening!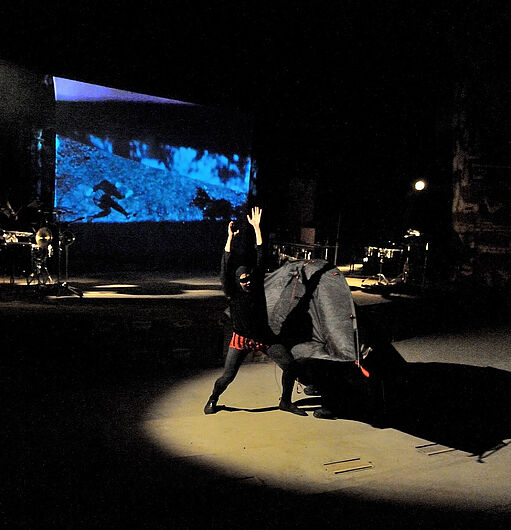 Sabotanic Garden (P. Mäkelä/ J. Saivo) is a Finnish experimental performance and music group founded in 2007 in Tampere/Finland. They are often collaborating with invited artists to present their genre crossing performances.
More
Pasi Mäkelä is a finnish performer, musician and conceptual artist based on Prague, Czech Republic. Studied in Turku Arts Academy, Finland 1998-2002, and has a degree of theatre director and educator.
Works actively with own music/performance group Sabotanic Garden, experimental music micro-label Meteorismo, and garage-gospel music group The Spermbankers.
Mäkelä works also on solo performance and music. Between 2013-17 He performed his physical performance solo Tonttu in Slovakia, Germany, Finland, Sweden, Czech Rep., Austria and in U.S.A. He released his first solo music album in late 2014.
Simo Laihonen (Tampere-Finland): drummer-percussionist involved in improvised and various traditional forms of music, dance and education. At the moment working mainly with groups Black Motor, duo w/ reedman Mikko Innanen and Sound & Fury (formerly known as Edward Vesala Sound & Fury). http://jazzfinland.fi/artist/simo-laihonen http://www.blackmotor.fi
Niina Lehtonen Braun (b. 1975) graduated from the Academy of Fine Arts Helsinki in 2000 and has been living in Berlin since that. Her artistic work includes collages, paintings, installations and performances. Lehtonen Braun is a founding member of the performance group JOKAklubi (FI/DE) and she regularly works in co-operation with the group Sabotanic Garden (FI/CZ). Lehtonen Braun has published two art books; "Mother Said" (Kerber Verlag, 2013) and "These Foolish Things Remind Me Of You" (Kerber Verlag, 2016). www.niina-lehtonen-braun.com
Cristina Maldonado (Mexico) is a performance artist with a choreographic mind that uses video and installations in materialistic way by using her bare hands to deal with the transformation of the image basically touching and merging with light and the beam of a projector. She started presenting her work internationally in 1999 and continues to create hybrids of experimental theatre, dance, live video interventions, participatory art, site specific projects, staged performances and installations.
Jussi Saivo (Tampere - Finland): Sound artist working internationally with parallel phenomenas of art and science since 1996 - mostly in the fields of sound, performance art and experimental biology. Selected Methods: DIY / Attitude / Timing / Alternative Physics / Experimental Biology / Parietal Art and Land Art / Experimental Music / Biodiversity
Roland Rauschmeier lebt und arbeitet in Wien. Der gebürtige Augsburger besuchte dort die Akademie der bildenden Künste und gründete mit der französischen Tänzerin und Choreografin Anne Juren die Wiener Tanz- und Kunstbewegung sowie eine Familie. Er kooperiert mit dem deutschen Film- und Videokünstler Ulu Braun unter dem Pseudonym BitteBitteJaJa und arbeitet an einem genreübergreifenden Oeuvre.
Petra Lustigová (Czech Rep. b.1964) Actress, graduate from AMU ( Academy of Performing Arts Prague), worked as free-lancer actress since 1987 in various theaters, films an TV projects. Part of international performance group Second Hand Women. Performed in USA, Russia, Germany, Mexico, Finland, Iceland, Korea, Denmark etc. Worked 12 years as hospital clown. Some highlights, Cirkev (2012) Studio Hrdinu, Vaclav Havel´s last play Odchazeni - Leaving (2010) divadlo Archa, movies :Mission Impossible - Ghost Protocol (2012), Příběhy Obyčejného šílenství (2005).